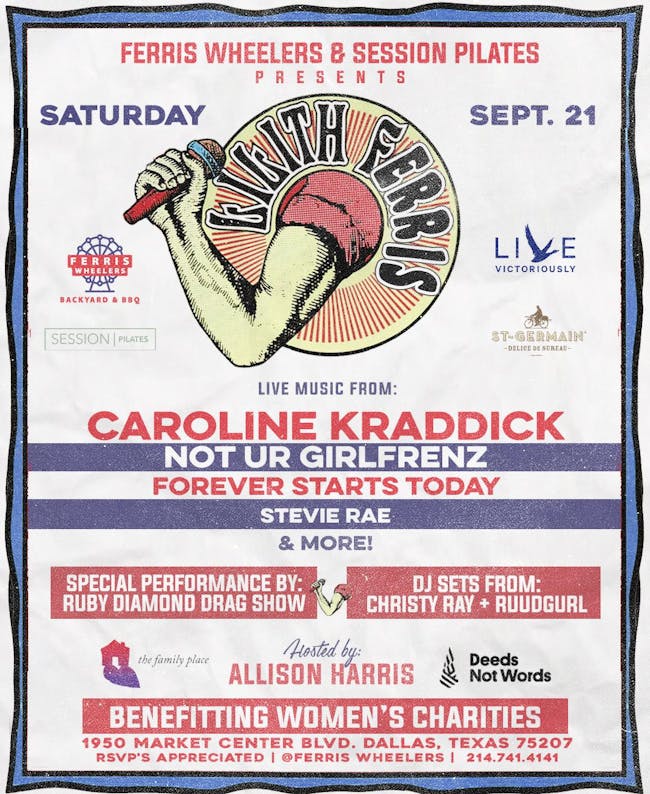 Presented by SESSION Pilates
caroline kraddick
Not ur girlfrenz, Forever Starts Today, Stevie Rae, DJ Christy Ray, Ruudgurl
$10.00 - $45.00
Tickets At The Door
Lilith Ferris is a tribute to Lilith Fair and its legacy of putting women in the spotlight both on the stage and with their fundraising.
Join us as we celebrate the 3 year anniversary of SESSION Pilates!
The ladies of SESSION Pilates have been crushing it since 2016, so what better way to celebrate their 3rd birthday than to help them take things full circle . . . An event aimed at empowering other women.
Think a day full of listening to local, female artists, enjoying refreshing drinks, eating great BBQ and more!
Together with SESSION Pilates, we looked to the past to show us the way forward. The event will be called Lilith Ferris — a homage to the Lilith Fair traveling music festival started by Sarah McLachlan that concentrated on an all-female lineup and raising money for women-focused charity. Lilith Ferris will follow suit.
All ticket proceeds will be donated to two amazing, Texas-based organizations that were hand picked by the ladies of SESSION Pilates:
The Family Place — a group that SESSION has worked with since its inception to help provide safety and opportunity for women and their families experiencing domestic violence.
Plus, Deeds Not Words — a non-profit which strives for gender equality in a variety of ways that include economic opportunity, including pay equality; freedom from sexual assault and harassment; and access to reproductive rights and healthcare.
The concert will be headlined by Caroline Kraddick and supported by Not Ur Girlfrenz, Forever Starts Today and more artists to be announced. And we are thrilled to have the Allison Harris of Fox 4 on board to emcee the event.
So, what are you waiting for!? Grab your tickets for the party!
It's all happening Saturday, September 21, at Ferris Wheelers: 1950 Market Center Blvd., Dallas, TX 75207.
And if you're in on the #obSESSION, you won't want to miss this:
SESSION VIP TICKETS = $45
Kick off the day with a VIP-ticketed mat Pilates class from 12-1 P.M.
*Mat class to be co-taught by founder Brittany Grignon & lead instructor Judi Moore.
Then, hang out with your fellow #SESSIONSoldiers during the welcome party from 1-2 P.M.
*Sip welcome drinks and enjoy a BBQ buffet c/o Ferris Wheelers + a host of other vendors and surprises!
*Last but not least: You'll have the best seat in the house for all the live acts playing until 10 P.M.
If you can't make it to the mat class, no worries!
GENERAL ADMISSION TICKETS = $10
Doors open at 2 P.M. Concert goes until 10 P.M.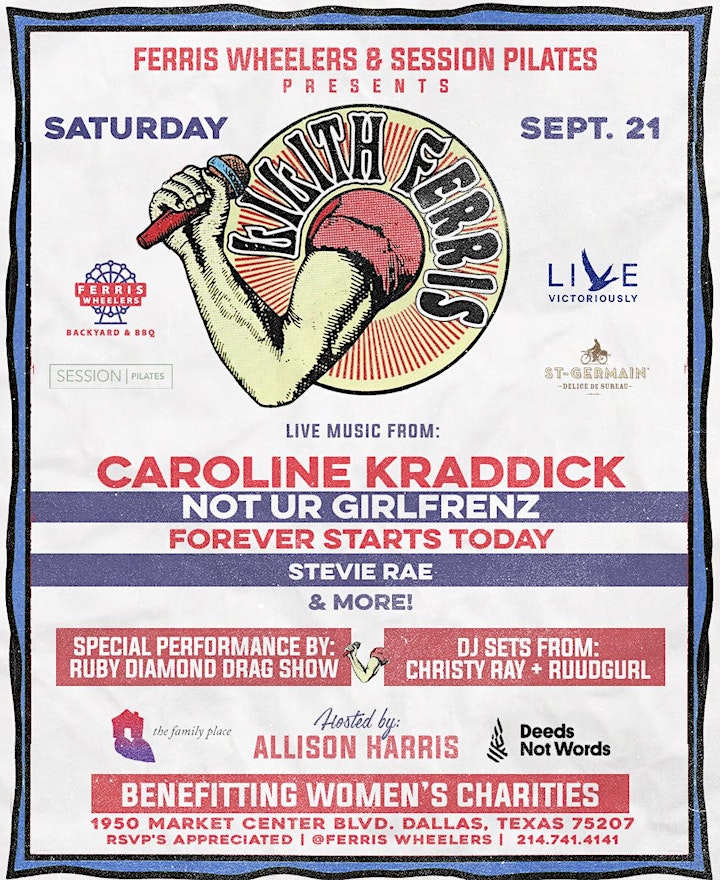 Venue Information:
Ferris Wheelers Backyard
1950 Market Center Blvd
Dallas, TX, 75207